In lieu of a writing exercise today, I have decided to tell you all a little anecdote about my odd morning.
Actually, it all started a couple of days ago. I came home Sunday evening to a...
different
smell in my house. It wasn't overwhelming or completely offensive; it was simply strange, and I had a hard time placing it. Figuring that one of my roommates had cooked something that, to them, might have smelled wonderful earlier that evening, I shrugged it off. It would wear off once I woke up in the morning. No harm done.
Yesterday, I woke up and honestly didn't notice any smell. Of course, I don't spend much time anywhere in my house other than my bedroom and bathroom, so it's natural that I wouldn't smell something that was, say, originating from the kitchen. Last night, however, I came home after work through the back door leading to the kitchen, and the smell was still hanging stagnantly in the air, only intensified.
Okay
, I thought.
Leftovers... I hope that was the last of it
. It honestly was starting to smell pretty rank.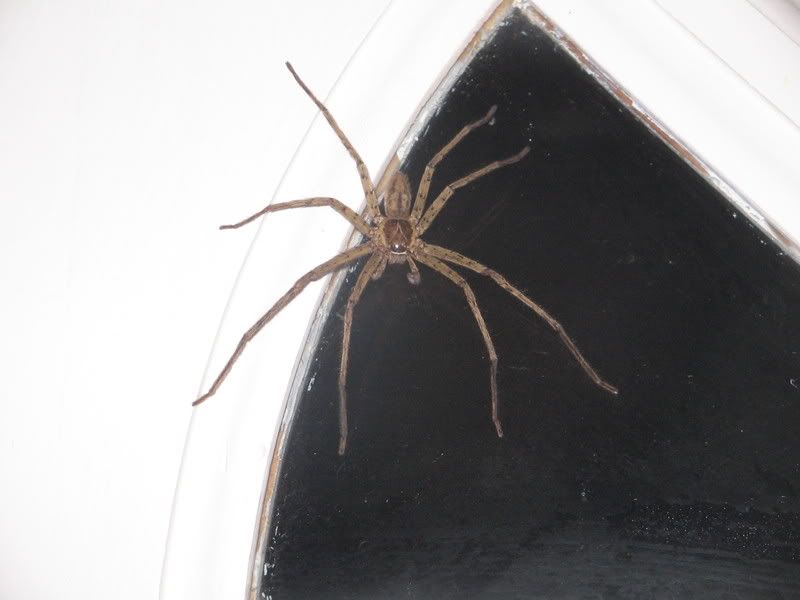 This is Gigantor. Well, he looks kind of like this anyway...
A.D.D. SIDE NOTE: The only reason I entered through the back door to the kitchen was because my door - the door that leads directly from the back yard into my room - was, at the time, being occupied by Gigantor, the Human-Eating Spider (pictured right... kind of).